Romantic Reads to Sweeten Up Your Next Vacation
Written on February 09, 2023

Sweeten up your vacation with romantic reads that are perfect for passing the time on the plane or while lounging poolside. Here are a few titles for your consideration: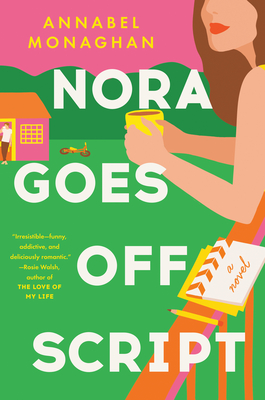 Nora Goes Off Script by Annabel Monaghan
Recommended for: Fans of made-for-tv romantic movies, but with more heart and less cheesiness
As a screenwriter for a popular romance channel, Nora Hamilton turns the story of her husband leaving her and their two children into the best script she's ever created. When it's picked up for the big screen, cast and crew descend on her old home's property for filming. After everyone else departs, former Sexiest Man Alive/current leading man Leo Vance sticks around because he craves a little normalcy in his life. The love that unfolds is bigger than either could have imagined, but can it overcome his big-screen life and her emotional baggage?
Book Lovers by Emily Henry
Recommended for: Book lovers!
Cutthroat literary agent Nora Stephens is a city girl at heart, but when her sister Libby begs for a girls' getaway to small town Sunshine Falls, North Carolina, Nora can't refuse. Even in this rural refuge, she can't escape the city. Charlie Lastra, a surly editor she's had many unpleasant encounters with, is also in Sunshine Falls. Amidst their constant run-ins, Nora must remind herself she can't stand him, or risk being engulfed by their chemistry. An ode to bookworms and romance fans alike, Henry's latest is another winner.
Part of Your World by Abby Jimenez
Recommended for: Fans of lovers from two worlds and reading about the challenges they face
Goodreads Choice Award Nominee for Best Romance 2022, Part of Your World is the newest novel from beloved romance writer Abby Jimenez. ER doctor Alexis Montgomery's world is turned upside down when she meets Daniel Grant, a carpenter ten years her junior. Between her family's ultra-wealthy world and his tight-knit town, the two don't know if they can find a world where they can be together.
Just Haven't Met You Yet by Sophie Cousens
Recommended for: Readers who like their romance with a splash of mystery
When Laura arrives at the hotel for her business trip to the Channel Islands, she realizes she grabbed the wrong luggage at the airport. Upon inspecting the bag, its fascinating contents helps her craft a fantasy of the bag's owner, sparking her determination to meet him. As she tours the island with surly cab driver Ted, she works to uncover her parents' love story and write the romantic piece her editor has assigned her while also attempting to hunt down the bag's owner. She slowly discovers her family's story isn't what she was brought up believing, leading her to reevaluate what she wants in life and in love.
The Unhoneymooners by Christina Lauren
Recommended for: Fans of the enemies-turned-lovers trope
Olive has always been unlucky while her twin sister Ami has always had good fortune…that is, until Ami's wedding day. Everyone is stricken by food poisoning except for Olive and her sworn enemy – best man Ethan. With a bride and groom too sick to take their Hawaiian honeymoon, Olive and Ethan embark on another couple's romantic vacation. A run-in with Olive's future boss sparks a little white lie that leads to the two playing newlyweds, and Olive discovers that maybe Ethan isn't so bad after all.
On the Island by Tracey Garvis Graves
Recommended for: Readers who love survival stories
Teacher Anna Emerson can hardly believe her luck when she is offered a tutoring position for T.J. Callahan at his family's summer retreat in The Maldives. While Anna excitedly awaits her summer in a tropical paradise, T.J., who is in remission from cancer and catching up on stacks of schoolwork, is less excited. As the pair fly to meet his family, the pilot has a fatal heart attack and the sea plane crashes in the Indian Ocean. Floating to the shores of an uninhabited island, Anna and T.J. quickly realize their survival depends on one another. As days turn to weeks and then to months, the pair grows closer as they work to overcome the island's obstacles, all with the threat of T.J.'s cancer resurfacing.
---
Looking for more reading recommendations?
Thrillers That Will Make Your Flight Fly By