Spring Thrillers to Make Your Flight Fly By
Written on April 29, 2022

Are you on the hunt for a fast-paced, page-turner of a book to make your flight fly by? These spring thrillers might just be the ticket for passing the time when you're en route to your destination (or when you're lounging by the beach!)
Whether you load your Kindle before you leave or shop with coffee in hand at the airport Hudson News, here are a few new releases to keep your eyes on.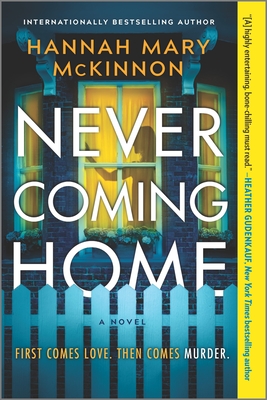 Never Coming Home – Hannah Mary McKinnon
Lucas doesn't hate his beautiful and brilliant wife, but he is driven by getting his hands on her massive inheritance. He hatches a fool-proof plan, taking out a hit on her while covering all his tracks carefully…but not carefully enough. When a note and photo show up on his doorstep, Lucas realizes someone is on to him and the hunter becomes the hunted.
Nine Lives – Peter Swanson
Nine people receive a mysterious note in the mail – nine names (theirs included) with no other information. None of the other names look familiar to the recipients, and many of them dismiss the letter until terrible things begin happening to the people on the list. What connects the victims?
Blood Sugar – Sacha Rothchild
Ruby might be a murderer, but she isn't a sociopath. She is an animal-lover. She operates a successful therapy business. She has friends. She loves her husband, Jason. The police aren't convinced of her happy marriage; however, and the story opens with Ruby in an interrogation room dealing with accusations of his murder…which is a murder she didn't commit. Alternating between Ruby's past crimes and present-day situation, readers get to know Ruby, a protagonist who is easy to root for in spite of who she is.
My Summer Darlings – May Cobb
Childhood friends Jen, Kitty, and Cynthia pass their afternoons drinking wine, gossiping, and lamenting motherhood battles. When the charming and mysterious Will Harding moves into one of the most luxurious homes in town, his presence captures the imagination of each woman, and what begins as a sort of curiosity evolves into an obsession that affects each of their lives.
The Island – Adrian McKinty
Widowed Tom and his new wife Heather decide a working vacation to the Australian outback is just what the family needs to regroup and improve their relationships. A visit to nearby Dutch Island promises adventure away from Wi-Fi and the daily grind, but immediately upon disembarking the ferry things feel wrong. When an accident separates Heather and the kids from Tom, it's up to her to earn their trust and get them out alive.
Reckless Girls – Rachel Hawkins
Lux and Nico are offered a hefty sum of money by two friends looking to sail them to quiet Meroe Island in the South Pacific. The women crave adventure off the beaten path, and Lux is restless and eager for escape following a family tragedy. After days at sea, upon arrival at the shimmering secluded island, the foursome discovers another couple moored off its sandy shores. The now group of six easily settles into life off the grid, enjoying their private island paradise until a mysterious stranger arrives alone, upsetting the balance and changing the dynamic. Friendships and marriages are no longer what they appeared to be, and the isolated paradise quickly becomes a tropical prison.
The Book of Cold Cases – Simone St. James
In 1977, two men were killed by the same gun with similar cryptic notes left behind. Young, rich, and eccentric Beth Greer was acquitted of these crimes and fled to the isolation of her mansion. Fast forward 30 years to Shea Collins, who revisits the case on her true crime website, The Book of Cold Cases. When Greer agrees to an interview, the two begin to meet regularly at her home, but Shea never feels comfortable there. As she finds herself intertwined in Beth Greer's web, she not only questions if Greer is in fact a murderer, but also questions what is happening inside the eerie manor.
Want more recommendations?
Buzzfeed: 15 New Thrillers and Mysteries Worth Picking Up This Spring
Which of these spring thrillers will you add to your to-read list? Have you read anything great on vacation lately? Stop by our Facebook page and tell us in the comments!