Weekend Getaway to Nantucket (Part 1)
Written on July 06, 2020
Although it feels like a small-town, remote, rustic island destination, Nantucket is also sophisticated and swanky, attracting the rich and famous to its high-end dining and shopping experiences. Perfect for a long weekend getaway, Nantucket provides visitors the relaxation of island life, peppered with incredible food, Atlantic history, and maybe a leisurely bike ride or two.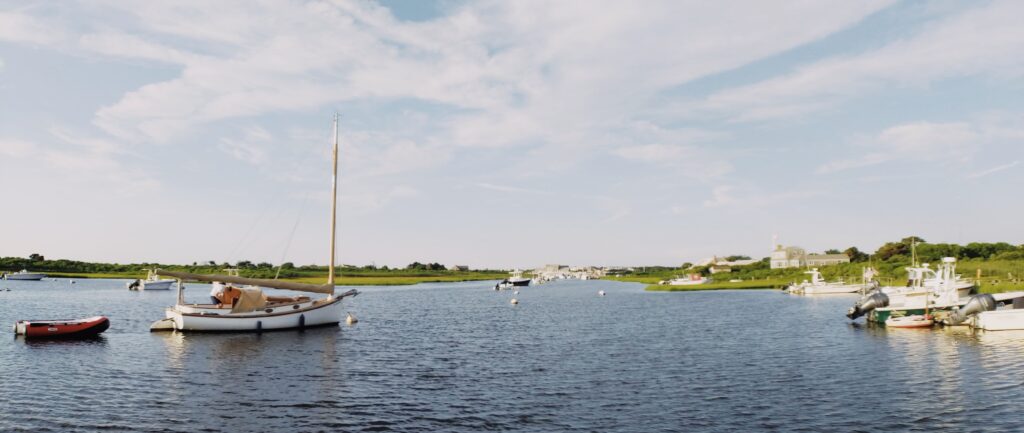 Getting There and Around
Fly into the island or cruise in on one of the ferries, but either way, prepare for a long-ish travel day, particularly if foggy morning skies delay your incoming flight. Departing from Hyannis, Harwich Port, and New Bedford, Massachusetts or New York City, you can choose between the slower-paced traditional ferry and serenely make your way to the island or opt for a high-speed experience to get to Nantucket faster.
When you first arrive, you might want to acclimate yourself to your surroundings with an arranged guided tour. Consider this your formal introduction to your long weekend getaway, and enjoy exploring with a local. Nantucket Island Tours takes visitors on a 75-minute journey that covers approximately 65% of the island, making stops at several of the most scenic tourist hotspots.
Bike rentals are easy to come by, and with paved bike paths along the island roads, it's a great way to experience Nantucket life. If you're staying at a bed and breakfast or inn, check the amenities, as bikes might be part of your rate.
If biking isn't your thing, The Wave island shuttle is an option, or you can use a taxi service.
Get to Know Nantucket by Sea:
If you're enjoying a romantic getaway, a sunset sail around the harbor is the perfect ending to your day. Many captains welcome food and drink on board their vessels, so you can plan a sunset meal accordingly, or just bring along a bottle of champagne to toast your special weekend away! Sunset cruises usually last about 90 minutes and can be cool, so be sure to bring a jacket with you.
If your vacation is more family-style, how about sailing the harbor on an ice cream cruise? Take in the waterfront real estate and yacht life on Nantucket, learn the history of the island from an educated guide, and enjoy a sweet treat!
Fishing trips, whale watching excursions, or whaling history tours are also available, so there are certainly options for all interests.
Get to Know Nantucket by Land:
Admire the homes: The Sconset Bluff Walk (or, Cliff Walk, as it is also known) begins in lovely Siasconcet and ends at Sankaty Head Lighthouse, and is considered to be the most scenic walking path in Nantucket. It can be tricky to find (descriptions on how to locate it are easily accessible online), but those that make the effort will be rewarded with a tour of some of the most beautiful homes and landscaping on the island.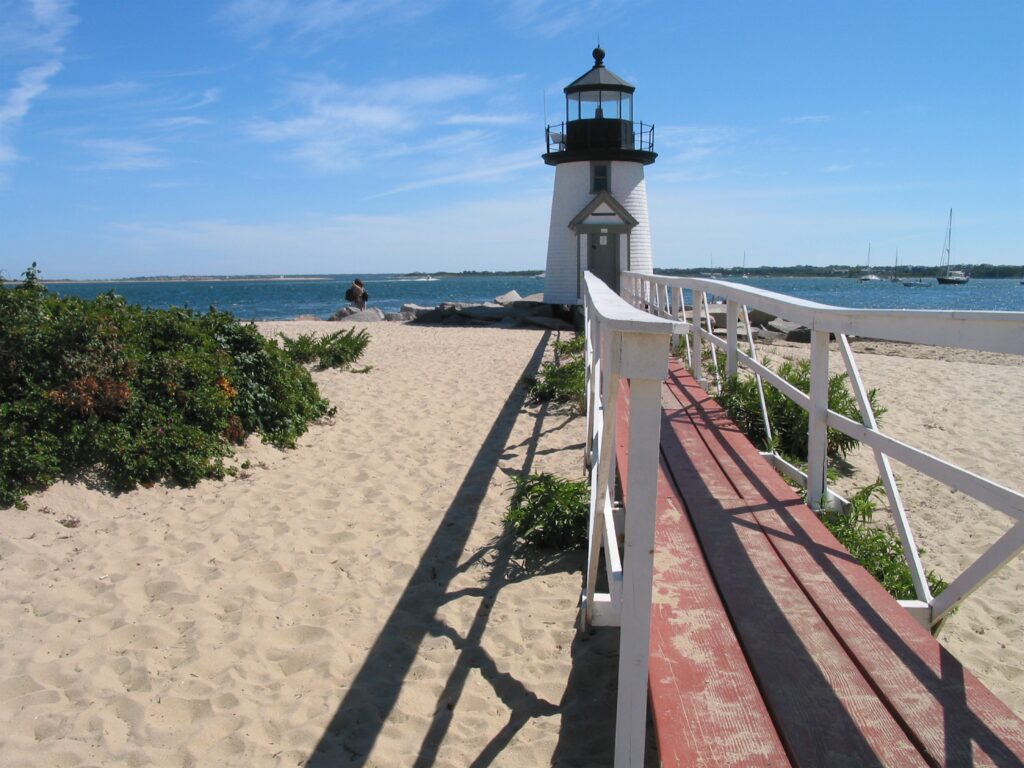 Visit the lighthouses: Nantucket has three lighthouses: Brant Point (the most recognizable, as it is near the ferry docks), Sankaty Lighthouse, and Great Point Lighthouse. Brant Point is the second oldest lighthouse in America and stands only 26 feet tall. Sankaty, located at the end of Baxter Road, stands at 70 feet tall and flashes its light every 7.5 seconds to guide captains. Great Point sits at the northernmost point of the island, flashing its light every 5 seconds to guide mariners. The lighthouse that sits on Great Point today was constructed in 1986 as a replica because the 1784 original was destroyed by a fire and its predecessor fell over in 1984. Visiting Great Point requires a miles-long trek through the sand or an over-sand vehicle tour.
Experience town: As you continue exploring Nantucket by land, devote time to visiting the Whaling Museum. Located on Broad Street, the Whaling Museum offers guests an opportunity to discover Nantucket's history through art, artifacts, and tours. Children will particularly enjoy gazing in awe upon the 46-foot sperm whale skeleton, or visiting the Discovery Center for crafts and activities.
For a small fee, climb the bell tower of First Congregational Church to take in breathtaking views of the island.
Exploring the architecture of the island is also popular – cruise the island on a bike or take a meandering walk to acquaint yourself with the gorgeously rustic-glam shaker shingle homes and glorious landscaping.
Don't forget that part of the magic of Nantucket is just wandering the streets, exploring the shops, and popping into bakeries or cafes for treats. (We'll have recommendations for you in Weekend Getaway in Nantucket Part 2!)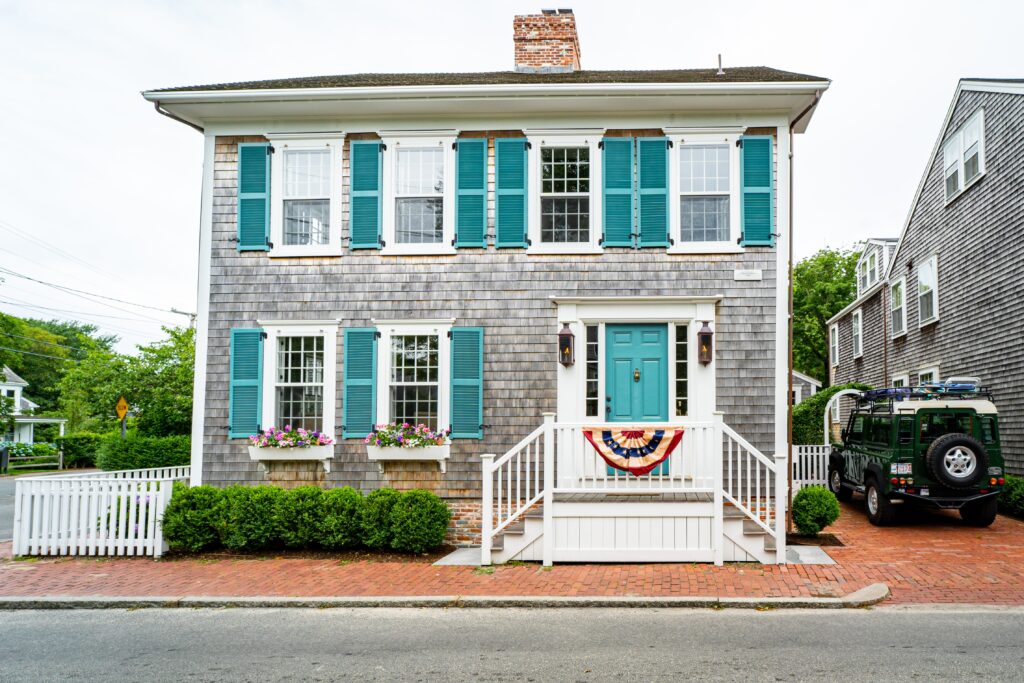 We are on a reading road trip through the United States, enjoying literature and travel adventures in every region of the country!
Make sure you subscribe to our feed so you don't miss a post!