Traveling as a Vegan
Written on October 06, 2022

Stephanie (travel agent and copywriter for KHM Travel Group) shares her tips and experiences traveling as a vegan.
Ten years ago, (quite literally) overnight I decided to embrace a plant-based diet and evolve from a seafood-and-steak-loving omnivore into an herbivore. While this decision was propelled by several factors, the promise of improved health loomed large. I won't divulge my medical history in this blog post, but the changes I experienced were remarkably swift and involved ceasing the multiple medications I was taking to treat a long-term condition.
Navigating a plant-powered path was much more challenging ten years ago than it is today. Purchasing specialty food items required a 30-minute drive to one specific store. (Now I can buy tofu at Aldi and vegan cheese at Walmart.) Vegan ice cream or pizza at local eateries was non-existent. (Now I can go grab a cone or a pie with my family at one of many establishments near my home. And sidenote: the family is also vegan.) Traveling as a vegan* has improved immensely, with many cruise lines and resorts now catering to a variety of dietary needs.
Here are a few of the travel tips I have picked up along the way, traveling as a vegan in search of delicious eats:
VEGAN ON CRUISES
At dinner
While some cruise lines now offer vegan options on their menus, sometimes working with your head waiter is key to ensuring your meals are prepared correctly. On Disney Cruise Line, for example, our wait staff spoke with us at dinner to plan the next evening's meal – this meant ordering food from the menu with no changes, ordering from the menu with slight adjustments, or sometimes even requesting something off-menu (generally for our young daughter.) When we last sailed with Princess and Royal Caribbean, we followed the same procedure.
At the buffet
Dishes aren't often labeled well on cruise ships, so speaking with the crew or chef is important for determining which items are okay to eat. Often, chefs have offered to prepare food specifically for us (which we appreciate) but this also takes time, so be patient. Usually, we can cobble together some tasty lunches by scouting out the offerings and getting creative. I have eaten veggie burgers and fries, crafted fancy salads, thrown together veggie sandwiches, and have even piled my plate with ethnic eats when the buffet features certain global cuisines.
Hot tip:
Don't judge the ship's food offerings based on what is served embarkation day, which is a bit hectic. Ask what might be available to you (particularly at the buffets) and go with the flow. As you settle into your vacation, the process for planning your meals will become more streamlined.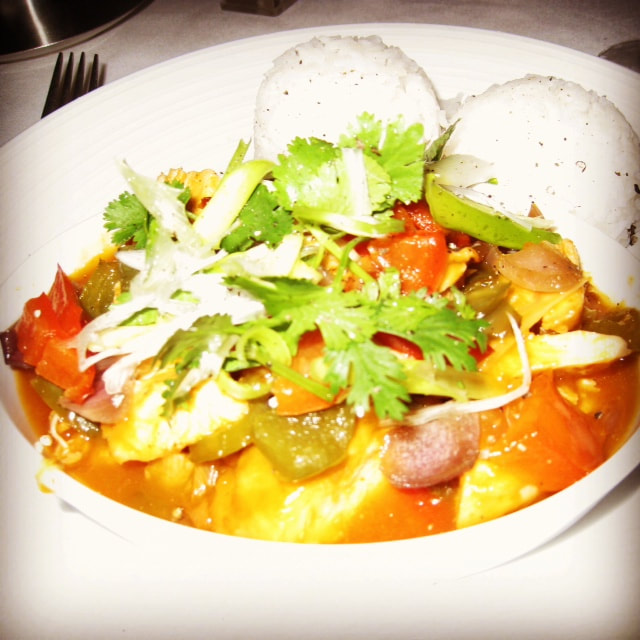 top row: Royal Caribbean sweet and sour chicken over rice, chocolate cake with bananas, artichoke tart / Princess tofu and roasted vegetables, pizza
bottom row: Disney Cruise Line raspberry mousse, French toast with Just Egg scramble / hashbrowns / pineapple, sesame crusted tofu, pasta with broccoli and cheese, stir fry garlic vegetables
VEGAN AT RESORTS
With so many outstanding chefs leading the food preparation at all-inclusive resorts, securing a plant-filled feast at your resort is usually simple.
At a la carte restaurants:
When checking in to dine, the staff usually asks about dietary needs, so this is the time to speak up. If they don't, mention it as you're getting seated – usually a chef will come speak to you about your options. Again, this could mean adapting a vegetarian menu item to be vegan (hold the cheese!) or the chef cooking up something tasty just for you. I have had some truly memorable meals when the chef gets creative!
At the buffet:
Don't be afraid to ask for the tour of the buffet to see what you can safely eat. If you're not sure about ingredients, ask! Some buffets will have more limited options and breakfast, for example, could feel a bit stale after a few days. (I eat a lot of oatmeal, fruit, and toast at resorts.) I remind myself that it's fuel, and my focus should be on my incredibly relaxing day and time with my loved ones.
Hot tip:
Resorts are usually very easy for vegan eating, but some resorts still do it better than others.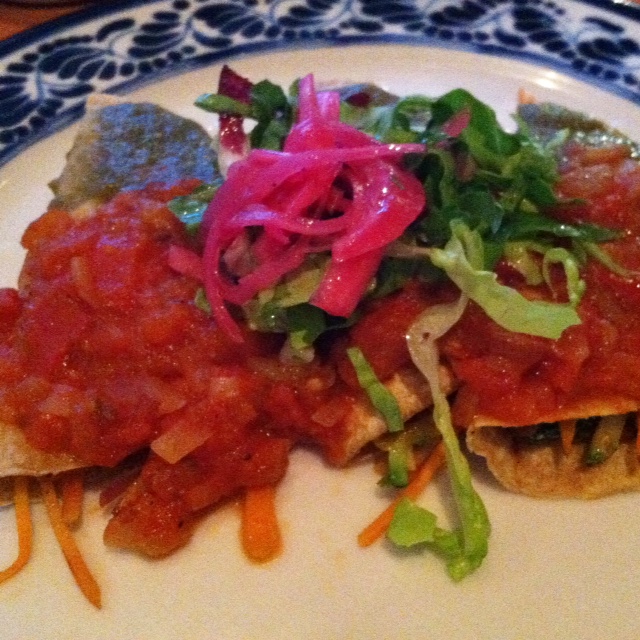 enchiladas at Secrets the Vine, sushi at Grand Velas, chickpea burger and fries at The Fives, veggie sandwich and fries at Grand Velas, veggie soft tacos at Dreams Riviera Cancun
VEGAN AT WALT DISNEY WORLD
Walt Disney World has long been an industry standout for catering to those with dietary needs. With the recent introduction of their plant-based menus at nearly all locations throughout the parks, ordering food has become a non-issue for vegans. From loaded hot dogs at Casey's Corner (Magic Kingdom) to tapas at Spice Road Table (Epcot) to burgers, fries, and a milkshake at the Sci-Fi Dine-In Theater (Hollywood Studios), finding awesome meals is so easy. Even the festivals at Epcot offer a variety of vegan options!
Hot tip:
Vegans eating at WDW seek out Chef TJ, as he is known for the insanely over-the-top multi-course meals he prepares for vegans. We had dinner with him when he was at Trail's End (Fort Wilderness) and we will never forget our (7? 8?) courses that started with a sprawling plate of loaded nachos and ended with a towering dessert stack. He rotates restaurants occasionally, so before your trip check in with a vegan Disney group and find out where he's whipping up his awesome feasts. (He is currently at Cape May Cafe.)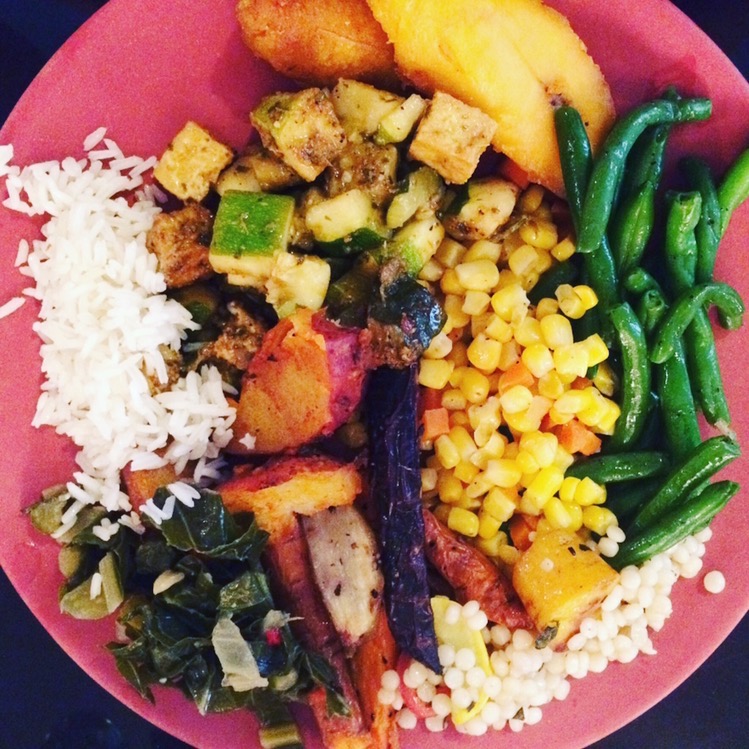 plate of food at Tusker House (Animal Kingdom), roasted vegetable bowl at Pecos Bill Tall Tale Inn and Cafe, Mickey soft pretzel (throughout the parks), Chef TJ specialties: loaded nachos, roasted tofu and vegetables, dessert stack (Trail's End at Fort Wilderness)
Ten years ago, traveling as a vegan was challenging but manageable…especially when I packed patience and the right mindset. I always tried to focus on the fun and activities over what I was eating. Now, with so many cruise lines and resorts offering vegan options on their menus (or menu items that are easily adaptable), food has truly become a non-issue and I can relax and enjoy all aspects of my vacation! Traveling as a vegan has never been easier or more delicious.
*For this blog post, I use the terms plant-based and vegan interchangeably, meaning, we do not consume animal products in any form. This includes beef, chicken, pork, fish, shellfish, eggs, dairy, and gelatin.