How You Can Spend a Perfect Day at CocoCay
Written on October 29, 2019
This post is sponsored by Travel Leaders Network.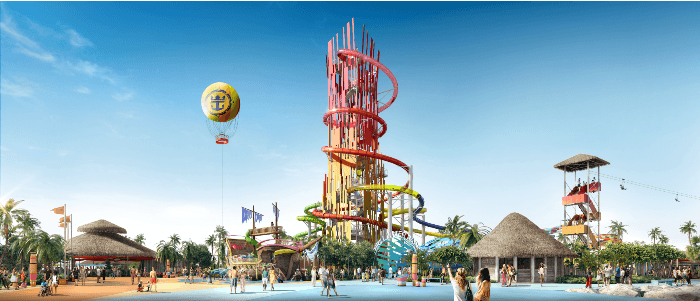 Over the last year, Royal Caribbean has been working hard to revamp its private island in the Bahamas. Now that it is officially open to cruisers, you may be wondering how you can spend a Perfect Day at CocoCay.
Home to the Tallest and Largest
Found in CocoCay's Thrill WaterparkSM, Daredevil's PeakSM rises 135 feet over the island, making it the tallest water slide in North America. If you are looking for a tamer way to slide away the day, the park has twelve other water slides to choose from.
After experiencing the water slides, check out the Caribbean's largest wave pool, also located in Thrill WaterparkSM. If you prefer, relax in one of Thrill Waterpark'sSM cabanas, which include complimentary entry for all of the slides and activities for up to six guests .

Take to the Skies
If you're looking for some high-flying fun, you'll find it at CocoCay in the form of a large helium balloon floating above the island. Up, Up and Away is a tethered balloon that, upon reaching a height of 450 feet, provides guests with an unforgettable view of the island.
For adrenaline seekers, the 1,600 foot zip line is among the most exciting ways to experience the island. Soaring above some of the island's eateries and attractions, the zip line course ends with either a dry landing on the ground or a splash landing in the harbor.

Relax and Refuel
To indulge at the island's swim-up bar, head over to Oasis LagoonSM, the Caribbean's largest freshwater pool. Nearby, Chill IslandSM features plenty of chairs and umbrellas to relax on the sand and gaze out over the beauty of the Caribbean. Or, head over to relax on Harbor Beach overlooking CocoCay's interior harbor.
Several of the dining options on the island are complimentary, including Chill Grill. This beachside restaurant is home to BBQ, fresh salads, and self-serve beer. Relax with live music at Captain Jack'sSM and enjoy their house specialty: chicken wings dipped in signature sauces such as mango-habanero and Caribbean jerk. After that, pop over to Skipper's Grill, the go-to spot for tropical fruit or a sweet treat. As a bonus, if you purchase a beverage or Wi-Fi package for your sailing, both can be enjoyed at Perfect Day at CocoCay.

More to Come!
Cruisers can experience all of these incredible activities right now, but there's still more to come. Slated to open in December of 2019, CocoCay's South Beach will be one more reason to book a sailing for the holiday season. South Beach will feature the CoCo Beach ClubSM and the Bahamas' first over-the-water cabanas to relax the day away.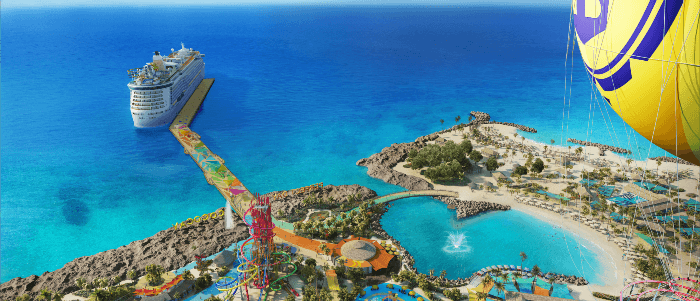 How to Get to CocoCay
CocoCay is an exclusive island that can only be reached by a Royal Caribbean cruise ship. Royal Caribbean offers a variety of itineraries -ranging from three to nine days, that include Perfect Day at CocoCay as a port of call. To book your Royal Caribbean cruise and experience Perfect Day at CocoCay, contact your Encompass the World / Westlake Travel travel agent today!
---
* CoCo Beach ClubSM and overwater cabanas are scheduled to open in December 2019. All destination features and experiences, and related delivery timing for these features, are currently in development and are subject to change without notice. Images and messaging for Perfect Day at CocoCay reflect current design concepts and may include artistic renderings. Perfect Day and CocoCay are trademarks of Royal Caribbean.
This post in its original form was written by Sydney Crago and adapted by Encompass the World Travel.