Encompass the World Travel Agent Explores Peru
Written on September 07, 2017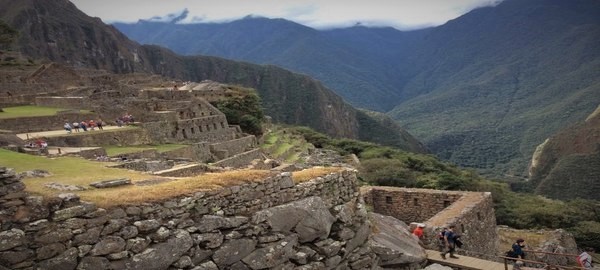 Earlier this month, Encompass the World travel agent, Lois Holben, had the pleasure of taking an 8-day escorted tour through Peru and Machu Picchu. All expectations of her experienced tour operator, Tauck Tours, were exceeded. Lois, her husband, and her close friends were amazed by the detail of their tours, the views of Peru and Machu Picchu, and their multiple resort stays.

As a first-time traveler to this destination, Lois was unsure of what exactly to expect. But the result was so much more than she could have imagined. Lois shared, "Visiting Peru and Machu Picchu had always been on my bucket list, and I am so happy I have finally checked it off."
Machu Picchu was declared one of the seven wonders of the world for its extraordinary architecture, situated on mountain ridge just above the Sacred Valley. This destination is ideal for people seeking adventure and beautiful views.

The highlights of the trip included many various hands-on excursions that Lois and her group could take part in together. They had the chance to interact with many of the country's locals through a visit to a school to meet and play with the children, watching Peruvian women create scarves and hats, and even taking part in a religious healing ritual. But the excursions didn't stop there! They rode horseback through the Sacred Valley. Lois's husband loved painting ceramics the Peruvian way.
Throughout this trip, the entire group truly felt and experienced the local culture. Tauck Tours provided an authentic, active involvement over the course of the entire journey through Peru.

After all the group's adventuring, they were tuckered out! Luckily, they had arranged to stay at multiple hotels and resorts: JW Marriott Hotel Lima, JW Marriott El Convento Cusco, Inkaterra Machu Picchu Pueblo Hotel, and Aranwa Sacred Valley Hotel and Wellness resort.
Lois's favorite of all the stays was the Inkaterra Machu Picchu Pueblo Hotel because it is located in the middle of the rainforest! Each room was a casita, which is a small, self-contained, genuine Spanish home.
The JW Marriott El Convento Cusco was a remodeled former convent. The resort was transformed to have restaurants, tours of the basement, and exquisite rooms for its guests.

Touring Peru and Machu Picchu was a vacation of Lois's dreams. As a travel agent, she highly recommends this trip for all her clients who are seeking a blissful adventure.

Encompass the World Travel invests our time and resources into developing the best client itineraries and travel plans suited for every individual client's needs and desires.
To start planning your next adventure with an Encompass the World Travel agent, submit your preferred communication method or call 1-330-225-0600.