Alaska's Big Five and Where to Spot Them
Written on May 25, 2023

From seals to arctic hares, Alaska is home to a diverse range of animals that thrive in its vast swaths of untouched land, which includes seven of the twelve largest National Parks in the United States. Many travelers make the trip to the Last Frontier to catch glimpses of Alaska's remarkable wildlife, the most notable of which are collectively referred to as the "Big Five."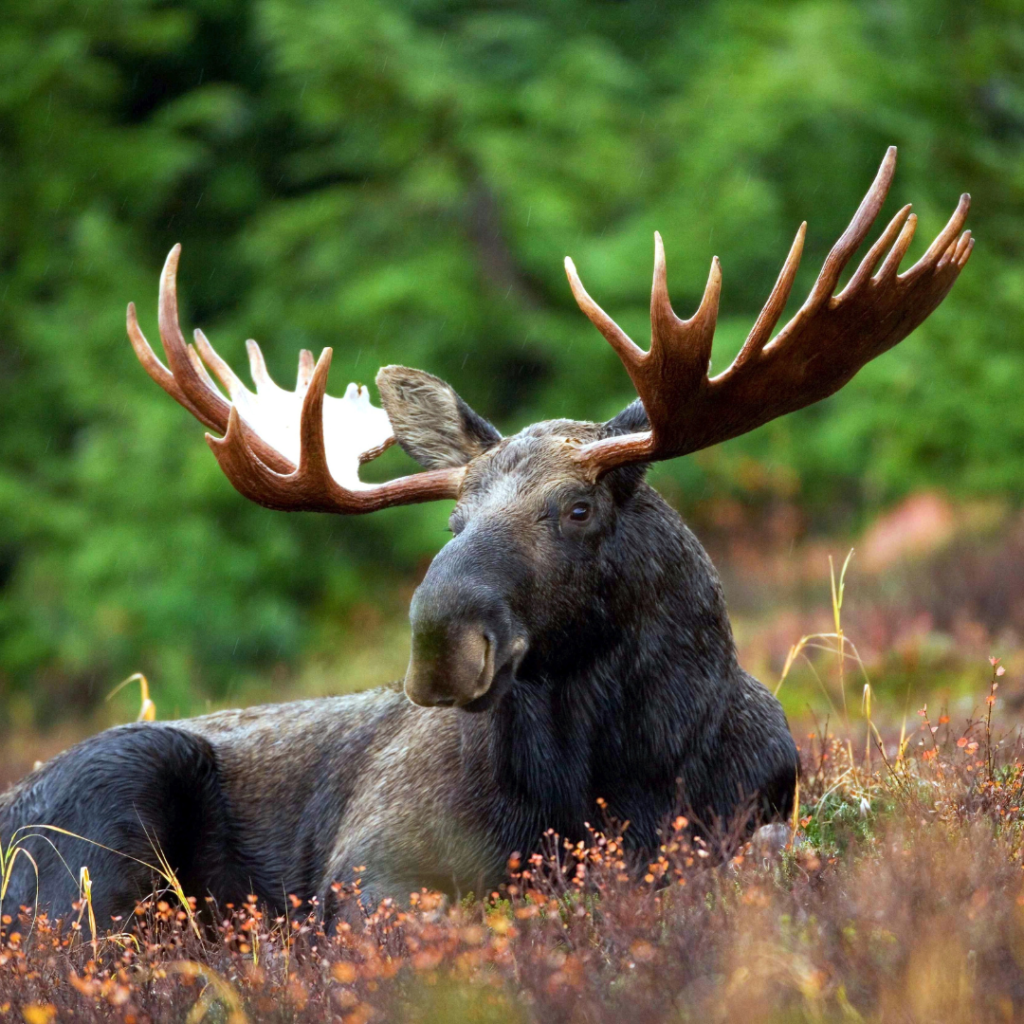 What are Alaska's "Big Five?"
Originally the term Big Five referred to five large land mammals that were difficult to hunt, but today they are the five animals that visitors are most lucky to spot while spending time in the Alaskan wilderness.
The Alaskan Big Five are moose, bears (both black bears and grizzly bears), Dall Sheep, Caribou, and Gray Wolves. Many people are familiar with moose, bears, and wolves but might not have seen them in their natural habitats. Caribou and Dall Sheep, on the other hand, might be a new animal to learn about and spot in the wild.
Dall Sheep are a species of sheep found only in Alaska and western Canada. They have coarse white fur that covers an insulating coat of fine wool. They are most easily recognized by the large, curved horns on either side of their heads. Both males and females have these trademark horns, but the males' horns are usually larger. These sheep are mountain climbers and thrive on the high, windy cliffs of Alaska's mountains.
Caribou is another name for a reindeer. These animals stand about six feet tall, not including their antlers, and are common in arctic climates. They often travel in herds as they migrate around their annual routes. They are unique among deer species because both the males and females have large antlers that they shed in the winter.
Where Can You See Them?
Visitors to Alaska have the best chance of seeing the Big Five at Denali National Park. Since its establishment in 1917, the park has protected over 6 million acres of Alaska's wilderness as well as the highest mountain peak in North America, Denali (formerly Mt. McKinley). The name Denali was given to the mountain by the Koyukon people and its name means the high one. To learn more about the park, visit the National Park Service's website.
Getting to Alaska
The typical travel season in Alaska runs between late May and mid-September. These months are when most tours operate and cruise lines sail the area. For the best chance at witnessing the Northern Lights, August or September travel is recommended.
For many travelers, a cruise is one of the best ways to visit Alaska. Cruises combine transportation, accommodation, dining, and entertainment in one convenient package, while allowing guests to see several incredible locations in one trip. Cruises lines also have connections with many local tour operators that provide guests with reputable options for excursions like hiking glaciers, whale-watching, fishing, or meeting sled dogs.
For those looking to keep their feet firmly on land, riding the rails through Alaska can be a great way to see the state. Rail cars allow passengers to travel comfortably while taking in the scenery around them. An abundance of escorted tours are also available.
Want to do both cruise and land? Many cruise lines have their own lodges on land as well as land tour packages that cruisers can add as either a pre- or post-cruise option!
---
Travel agents are masters at pairing you with the cruise line or tour that will deliver your dream Alaskan experience. Contact our team to discuss this bucket list adventure together!