8 Tips for Smooth Holiday Travel
Written on December 11, 2018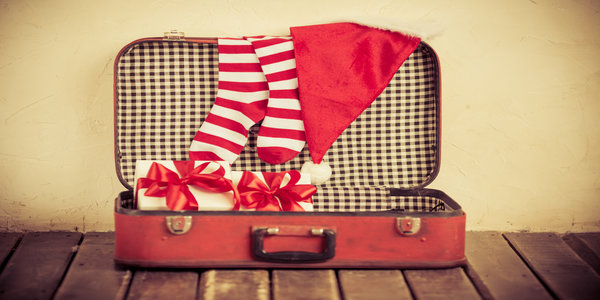 Traveling in the middle of the busy holiday season can turn even the most seasoned traveler into a Grinch. Whether you are flying, driving, or riding to your destination, these 8 tips for smooth holiday travel can make the trip less stressful.
Confirm Reservations – Don't let a schedule change or computer glitch jeopardize your travel plans. Confirm the details of all reservations 24-48 hours before you travel. Verify all flight or route schedules, check pickup times and locations for transportation, and contact your hotel to review room requests.
Check In Online – Whether you're flying, cruising, or even staying in a hotel, utilize online check-in at the earliest time possible. Not only can you shorten your time spent waiting in line, but it also reduces your chance of being bumped if your flight or hotel is overbooked. Make sure to advise the hotel staff if you plan to arrive after 9:00 p.m.
Sign Up for Notifications – Whether it's traffic alerts, weather advisories, or flight delay notifications, early notice of potential complications gives you more time to adjust your plans. Many apps allow you to enter your travel details and receive updates on your phone.
Arrive Early – Running late is a surefire way to add loads of stress to your travel experience. Allow plenty of time for your drive to the station or airport, as well as for waiting in longer check-in and security lines.
Stay Fueled – Hungry travelers are cranky travelers! Try to maintain a regular meal schedule and pack plenty of snacks for filling in the gaps. Hydration is also important, so don't forget your refillable water bottle.
Leave Gifts Unwrapped – If at any point your luggage will be subject to security inspection, don't wrap gifts until you get to your final destination. Consider the convenience and potential cost savings of shipping gifts ahead of time.
Power Up – Don't let a dead battery keep you from communicating or receiving alerts about your trip. Keep cords for your phone, tablet, and other electronics handy in your carry-on luggage. Charging hubs or portable battery packs are helpful when outlets are limited, and don't forget the car charger on road trips.
Smile and Be Nice – It's easy to let the crowds and complications get to you, but maintaining a positive attitude goes a long way in dealing with stressful situations. Remember that customer service employees often bear the brunt of holiday travel drama, so patience and a smile are always appreciated.
For any travel season, your Encompass the World travel agent is here to help!