5 Reasons to Travel to Barcelona
Written on April 17, 2023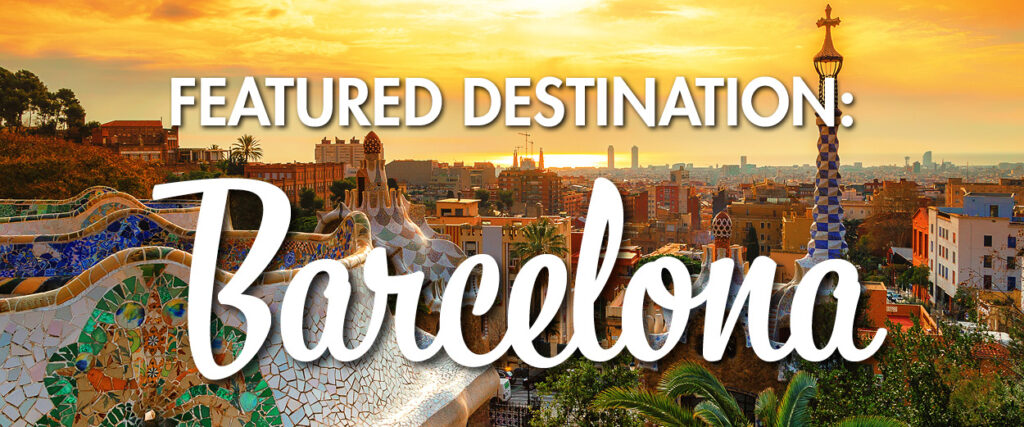 Barcelona is a bustling tourist destination. There's so much to take in when visiting this coastal city in eastern Spain — whimsical architecture, delicious Mediterranean cuisine, and dramatic views are just a few of its draws.
It's a place where French and Spanish cultures collide, creating a brilliant range of dining options, landmarks and festivals. If you find yourself in this modern, eclectic hub, take a moment to breathe in the sea air and let the city's artistic vibes soak in as you visit these celebrated sights.

THE GOTHIC QUARTER
The medieval architecture and winding, narrow streets are what give this centrally-located neighborhood its name. Some structures, including remains of the square Roman Wall, date back to the 4th century AD when Barcelona was part of the Roman Empire. Stop in at some of the area's trendy tapas bars and charming boutiques after admiring the ornate grandeur of landmarks like the Cathedral of Barcelona.

MONTJUÏC
This massive hilltop park was the main site for the 1992 Summer Olympic Games, and remains the ideal place for panoramic views of both the city and the sea. Stretch your legs on one of the walking paths or with a stroll through the Museu Nacional d'Art de Catalunya. Get your daily dose of history at the Castell de Montjuïc, a 17th-century military fortress that that overlooks the modern city.

PARK GÜELL
This playful public park exudes the distinct, imaginative style that brought modernist architect Antoni Gaudí international acclaim. Opened in 1926, the grounds include extensive gardens, colorful mosaics, unique structural elements like the iconic terrace. Visitors can also visit the home where Gaudí lived for the last 20 years of his life.

LAS RAMBLAS
One of the world's most famous — or perhaps infamous — pedestrian boulevards is constantly teeming with tourists, performers, and vendors with a variety of goods for sale. There's plenty of shopping and people-watching opportunities, but prepare for a Times Square-type sensory overload, and keep a close eye on your belongings.

LA SAGRADA FAMILIA
Gaudí's ambitious plan for this immense Roman Catholic Church has become one of the world's longest construction projects. Begun in 1882, construction hit the halfway point in 2010, and is scheduled to be completed in 2026, a century after its designer's death. La Sagrada Familia is an architectural marvel, and well worth the wait in its long entrance lines.
Is traveling to Barcelona on your bucket list? Be sure to check out the above landmarks to really soak in everything this European cultural hub has to offer.