Great Hawaii Food Neighborhoods
Written on July 07, 2017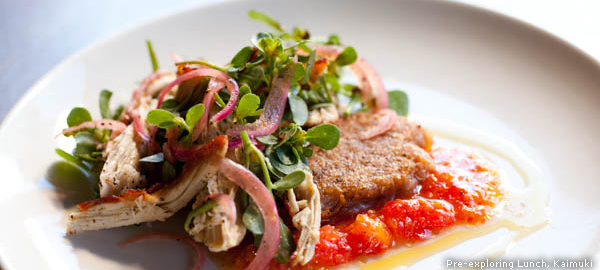 There's no better way to experience the diverse cultures of the Hawaiian Islands than through the universal language of food. Some of Hawaii's best-kept dining secrets can be found along the streets and deep into the hearts of neighborhoods and charming towns throughout the Aloha State. Whether your clients are foodies in search of a multicultural dining experience or families looking to taste Hawaii's local cuisine, Hawaii is host to a number of neighborhoods sure to satisfy an array of culinary cravings!
Highlighted below are a few must-visit neighborhoods on Oahu, Kauai, Maui, and the island of Hawaii:
• Kaimuki (Oahu) – For clients looking to venture beyond the streets of Waikiki, encourage them to go just mauka (on the mountain side) of Diamond Head, to the eclectic neighborhood of Kaimuki. From traditional Hawaiian bakeries and health bars to craft pubs and inventive cafes with international inspiration, this walkable neighborhood offers an array of unique eats.
We recommend: Koko Head Café, Mud Hen Water, Earl Sandwich, Otto Cake, Kaimuki Superette, Pioneer Saloon, Café Miro, Chocolate+Vanilla Bakery, BREW'd Craftpub, Town
• Wailuku (Maui) – Nestled at the foot of the West Maui Mountains is the charming town of Wailuku, known for its off-the-beaten-path family owned cafes, restaurants and bakeries. Among the many cherished "mom and pop" eateries, an assortment of contemporary bistros and coffee shops have emerged, providing a robust variety of options for visitors and residents alike.
We recommend: Julia's Banana Bread, Wailuku Coffee Co., Stillwell's Bakery and Café, Tokyo Tei, Maui Coffee Attic, Sam Sato's, Tiffany's Bar & Grill, Tasty Crust, The Mill House, 808 on Main.
• Hanapepe (Kauai) – Known as "Kauai's Biggest Little Town," Hanapepe's historic buildings are home to enchanting cafes and local eateries that offer a diverse array of culinary delights. Whether you're craving Hawaiian plate lunches or authentic Mexican tacos, your clients will have many delicious options to choose from while admiring the numerous art galleries throughout the town.
We recommend: Lappert's Hawaii, Little Fish Coffee, Paco's Tacos, Bobbie's, Midnight Bear Bakery, Wong's Restaurant, Taro Ko Farm, Unko's Kitchen, Hua Hale Shave Ice, Hanapepe Cafe & Bakery
• Hilo (island of Hawaii) – Clients vacationing on the island of Hawaii are encouraged to spend a day in the historic town of Hilo. Bursting with local flavor and culture, visitors are invited to indulge in the diverse cuisines offered. Residents boast about the multi-ethnic comfort foods, farm-to-table concepts and lunch shops that will have guests coming back for more.
We recommend: Moon & Turtle, Hilo Lunch Shop, Lucy's Taqueria, Café Pesto, Suisan Fish Market, Hawaiian Style Café, Takenoko Sushi, Café 100, Moonstruck Patisserie, Kawamoto Store